I don't know about you but when I'm using my Crockpot I want a recipe that is just throw it in and go. Nothing I have to keep checking on or adding to or… well, you get it. So yesterday when I was doing some meal prep I was trying to find a new recipe but finally just used a few different recipes as a guide to come up with a simple Santa Fe Chicken.
You'll need:
A can diced tomatoes and green chilies
170ml water
1 can black beans- rinsed and drained
4 cloves garlic- sliced
1/2 onion- chopped
1 tsp cumin
1 1/4 tsp cayenne
3-4 chicken breasts
Combine all ingredients in Crockpot. Place chicken on top and cook on high for 4 hours.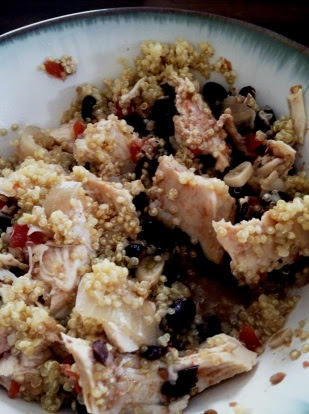 Serving suggestion: add in some quinoa